Otis Rush Marker Ceremony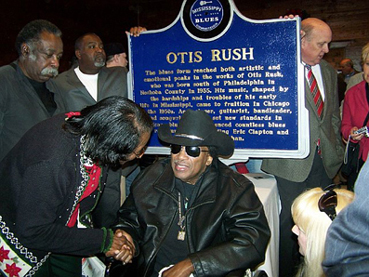 Otis Rush is being honored by his hometown of Philadelphia, Mississippi.
A Mississippi Blues Trail marker was unveiled at 10 a.m. on Dec. 6 2007 at the train depot where Rush boarded a northbound train 58 years ago.
The Blues Trail is a project of the Mississippi Blues Commission which was established in 2004.
Here are the photos from the Otis Rush marker ceremony the took place on Thursday, December 6th, in Philadelphia, MS. Enjoy!
It is a very special honor for me to be recognized by the state of Mississippi and the kind people of Philadelphia. It's been a long time since I got on that train and headed north to Chicago but the memories of my hometown are still strong in my mind. It was in Philadelphia that I first laid my hands on a guitar and discovered that I could make music with it, music that would matter to the world. I first heard the blues in Mississippi and the blues is what I devoted my life to. Music has always offered me a path past all the hardships that life sometimes throws at you. I've taken this music from Mississippi to concert stages all around this Earth. Maybe along the way, I've inspired a few others to pick up the guitar. I am happy this marker helps tell the story of Philadelphia, Mississippi, as it tells my story.
Otis Rush
Blues legend Rush to return for ceremony
EDITORIAL/Welcome home, Otis Rush
March 4, 2008
---
Message from Otis Rush

Hey Everyone,

I am so glad and grateful for each and everyone of your reply and responses on the site. It is so good for me to have such wonderful people in my life. You guys are the best. I never thought I would have so much support. I very simple so this is a lot to handle. Very humbled by all of your kind words. Thank you very much.

Now if I can get Masaki off my back she can give anyone the BLUES, ha ha ha Thanks you guys gotta exercise!!!


Love,

Otis Rush
February 21, 2008
---
Message from Otis Rush
Hey Everyone,
It's Otis here. I just wanted to take a moment to let you guys know that I'm thinking about all of you. Thanks for all your support and love. I miss my music so much and hope that I'll get better sooner than soon. You guys are the best and in my heart.
Best Wishes,
Otis Rush
August 8, 2005
---
His 70th Birthday Party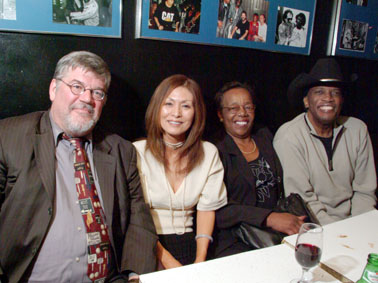 May 11, 2005
Otis with friends
Dan Bacon (from left), Masaki Rush, Marie Dixon and Otis Rush
Photo by James Fraher
Otis Rush's 70th birthday party was held at Buddy Guy's Legends on May 11, 2005. It was a historic birthday party that will be on people's mind for good and a wonderful event with full of respect for the great Otis Rush.
The day became a memorable day for both Otis and the City of Chicago. The actual date of birth of Otis Rush is April 29, 1935. They wanted to celebrate the 70th birthday of one of Chicago's treasures in a grand manner, and they decided to do it on May 11 as a pre-festival to the annual Chicago Blues Festival. At the party Mr. Barry Dolins of the City of Chicago in charge of special events announced officially the day as "Otis Rush Day"!
Many people from around the globe gathered for the event, and musicians, especially guitarists, who would usually play their regular gigs, put on performances as if they were different people. You could say that they were like jazz men playing in front of Miles, or pianists playing in front of Chopin. It was as though having "god" in front of them, and everyone's pure emotion just came out naturally. There was awesome tension going on from the beginning through the end of the jam session, and when all was over, both the performing artists and the audience fell in a state of lethargy.
All can be said in a sentence that Mr. Brian Fadden, manager at Buddy Guy's Legends, said: "That was the night that we will talk about for a long time."
August 8, 2005
---
How is Otis' condition?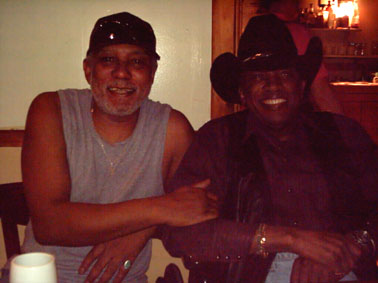 July 17, 2005
Carlos Johnson and Otis Rush
Photo by Masaki Rush
As you can see from a picture of Otis taken with Carlos Johnson at a birthday dinner for Mrs. Masaki Rush on July 17, 2005, Otis looks well with a big smile on his face. It looks like he lost some weight, but according to Masaki, he was a bit overweight before and his current weight is the best ever. He has overcome diabetes, and his condition has been improving. His rehabilitation has been going well, and he can almost talk without a problem. Good news is that he is holding a guitar in his hands again. He played "All Your Love" for Masaki on mother's day. He is advancing steadily towards his coming back.
August 8, 2005
---
Otis Appears in "Devil's Rejects"!
"Devil's Rejects," a horror movie, has been on the U.S. movie top 10 chart since its start on July 22. In the movie, three women are watching TV in a room at motel. What appears on the TV is Otis performing "I Can't Quit You Baby" at American Folk Blues Festival in 1962. The director of the film, Rob Zombie is a big Otis fan, and he even named one of the three co-stars "Otis". As for the soundtrack for the movie, an original recording for Cobra is used.
http://www.thedevilsrejects.com/
August 8, 2005
---
Live DVD/CD
Two live DVDs and a live CD by Otis Rush will be released later this year to the next year. The DVDs will have his performances at Montreux in 1986 and in 1996 respectively. Live CD will have his performances in Chicago in 1976. Producer is Mr. John McDermott, who has produced Jimi Hendrix and American Folk Blues Festival series and who is a big Otis Rush fan.
August 8, 2005
---
Carlos Santana
Santana is a big fan of Otis. He is well known for saying he listens to Otis, Miles, and Coltrane everyday. He really wanted to attend Otis' birthday party on May 11, but had to decline due to his tour conflict. Instead, he sent Otis gorgeous white roses with a message which started with "Dearest Mr. Otis Rush, Thinking Of You....." and ended with "With Love, Deepest Respect & Admiration". Mrs. Masaki Rush was so touched with it that she had tears in her eyes, and she put the flowers from Santana on the stage for him. Santana, who believes in Buddhism, had the flowers arranged in an Oriental style.
Otis and Santana met and spent a couple of hours together backstage when Santana played the at "Taste of Chicago" event on July 2. On the stage Santana played "All Your Love" while playing "Black Magic Woman", and he introduced Otis to the audience, saying "My hero!" What a great experience!
August 8, 2005
---
Otis Rush & Friends-Live at Montreux 1986
Hey all! I just wanted to let you guys know that Otis Rush' new DVD and CD will be released from Eagle Rock Records on March 21, 2006. The title is called Otis Rush & Friends-Live at Montreux 1986. Can't wait!!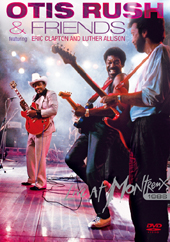 March 12, 2006
---
The Cobra Singles
A complete box set of Otis Rush's legendary Cobra 7" single-reissues in a beautiful black cardboard box!
THE FIRST TIME EVER IN THE WORLD!
There has never been such a box set of Otis' 7" singles. This splendid box set will generate tremendous interest among all blues fans and collectors. 500 set limited. Get it now or miss it forever!
September 25, 2006
---