---
I can clearly remember when I first heard Otis Clay through the radio in 1978.
The program was called The Golden Live Stage, broadcasted on Sunday night on FM. That night Otis's singing hit me like a lightening. It was when he walked up to the michrophone and sang 'I've Got to Find a Way' that he grabbed the hearts of music fans in Japan.
The recording was later released as a double album 'LIVE! OTIS CLAY'(Japan Victor VIP-5042~3), and it's still one of my favorite, along with other recordings of his including the '83 live album with the Hi Rhythm Section, 'Soul Man Live in Japan'(Bullseye Blues CD BB9513).



My 1993 visit to Chicago showed me he was not just a great singer but the one who tries to live the love he sings about. In the South Side Chicago where he lives there are not enough safe place for the children to play, and there are no library or no movie theater in that area. On the famous corner of the 47th Street and the M.L.King Drive(former South Park Way), where there used to be the Regal Theater, Otis and his friends are planning to build Lou Rawls Theater that would hold some movie theaters, a library and a roller skating rink.
On the same corner, they hold the annual Roots Festival to cerebrate their musical heritage.
This year we were happy to have Otis Clay in Japan for the first time in 12 years. Welcome back, Otis Clay!
---
LIFE IN CHICAGO
Last time I visited you in 1993 in Chicago with the House Rockers, and we had such a wonderful time doing the barbecue in Otis's room!
Yeah, it was during the blues festival. I had folks from Finland, Japan, England, Switzerland.

How's everything going? Your life and your music?
Everything's going great. Yeah.
I heard that you are running a cleaner or a laundromat.
Yeah, I'm in the dry cleaning business.
All right! Is that close to where you live on Sirmack Road?
Well, it's downstairs. Because I have store space in the building dow nstairs, you know. Now we have a boutique there also. Dry cleaning, and boutique.
Great! That's wonderful! It's a huge place, right?
Yeah, I've done a lot of work in it now, you know, so you guys must come back again soon!
Yeah, great! Thank you! I'll take my laundry with me.
One hour service!
We all enjoyed your latest album, This Time Around.
Thank you. This Time Around. (pointing at the Songs of Rolling Stones) In that same series, what we've just released on Eric Clapton. And I guess
we're soon releasing the Led Zeppelin.





All right! What are you going to sing on that album?
Since I've been loving you. Yeah, we had a lot of fun with that!
Did you sing on the Janice Joplin album, too?
Oh, yeah. In fact, that was the first in the series, released in '97.
THE ROOTS FESTIVAL AND THE LOU RAWLS THEATER
Last time I was there you introduced me to Alderman Dorothy Tillman.And she told me to come back for the Roots Festival and I did. Unfortunately you weren't there for the festival that year in '93.
Yeah. That was '93, that was the year that Albert Collins and I were on tour .We went on the tour at that time. But I'm the president of the organization, you know,We were still seeing everything happening and getting the artists and everything like that.
I had such a wonderful time then.
Yes. This is the ninth year.Probably It's really, the reality is, it's bigger that the Chicago Blues Festival now, with a lot of people, a lot of people.
You were touring with Albert Collins in 1993. And now it hit my mind that he past away that year, right?
Yep, yep. He got sick on the tour when we were on the tour. And he became sick on the tour. And we were in Geneva, Switzerland. He got sick at the festival. He got sick in Geneva, Switzerland. We came back home. That was in July, '93. And he died in October, '93. He took sick on the tour, which was the last date. Very last date of the tour he got sick. I love him. Great person, too. We became very close. We didn't know each other well before the tour. We knew each other but we didn't know each other well. We became very close on the tour. So it was a great loss when he died.
Is the Low Rawls Theater open now?
It will be open in April 2000. Now the foundation has been laid and the building will be up, so we'll be opening it in April 2000. The city and the state have been very supportive so we earned probably about five million dollars now.
Great! How was the festival this year?
Fantastic! Betty Wright, the Soul Stirrers and Inez Andrews! It was great.
Did you sing with anybody?
I sang with the Soul Stirrers.

Copyright(C) by Makoto Takahashi
HIS NEW PROJECTS
The Soul Stirrers and I, when I go back home, we're gonna do an album. We'll be doing an album together.
Great!
And also we are doing a Duke Ellington project for the 100th birthday of Duke Ellington. A lot of artists are on this project. And I will probably do the sacred music.
I'll be doing like 'Come Sunday'. Burgess Gardner who's here on tour, he and I are doing the arrangement. And we are doing the Duke Ellington sacred music on that album.
For what label are you doing these projects?
Well, for the Soul Stirrers, it's a possibility, we'll do it for Blind Pig. For the Duke Ellington, I don't know some other people are handling the album deal.
A whole lot of good things going on then!
Good things are happening, you know, we're really happy about that.
I remember you had a nice recording facility at your place.
Yeah, That's were, you know how big my place is. So the Stirrers are gonna come, we're all gonna stay there, and we'll just eat and move to the next room when we record.
That's a wonderful project! Are you doing some old Stirrers songs and new songs?
It's gonna be great! We'll do a quite a few original songs, although we'll go back to some of the old Stirrers songs when we do that. But basically the album... There's a song we have called Hey, Brother. That's basically the concept when the album will be around. Kind of very inspirational, you know, that type of concept before the album goes.
We are trying to capture what the Soul Stirrers were doing during the time when Sam Cooke was producing the group for the SAR record. That's when they made some great music. The great music of that time. So we want to kind of capture that type of things with the Soul Stirrers new album.
MEMORIES OF THE SOUL STIRRERS
I'd like to hear some memories of Sam Cooke and the Soul Stirrers. Did you know them personally at that time, too.
Not at that time. I met Sam Later. I've known Leroy Crume of the Soul Stirrers.
He and I are very close.He lives in Florida, so I go down there. That's where I stayed with him by the week and we put the idea together of doing the Soul Stirrers' album. During the time when Sam Cooke was with the Soul Stirrers, I was just a great admirer. Sam Cooke was such a gracious man, and everybody loved him. He was the first matinee (idol) I ever knew. He was very inspirational in meeting him. He's still very inspirational even till this day. Thirty five years after death, he is still very influential. It's a pleasure, although I was with the Nightingales, I was still close to the Soul Stirrers.
Is there a specific song that made you feel you want to sing?
Yeah. As you know on the Live album I sang His Precious Love. That 's a Soul Stirrers song, you know. And one of my biggest gospel songs, 'When the gate swing open' was a song of the Soul Stirrers also done some years ago. That was the inspiration for the version in idea.
Yes! Johnnie Taylor sang on that! That's a beautiful version of the song!
Right, right! Yes.
The other day I was listening to the Mighty Clouds of Joy version of 'When the Gates Swing open'. The second lead was Joe Ligon, but I couldn't recognize the first lead.
It's probably Jimmy Jones if I'm not mistaken.
Jimmy Jones?
Ah, I'll show you Jimmy Jones. Not the bass singer (of the Harmonizing Four) Jimmy Jones, but there was another Jimmy Jones with the Clouds. (Listens to the song by the walk man) This is Jimmy Jones! (Pointing the the one sitting next to Joe Ligon on the cover of 'The Best of Mighty Clouds of Joy vol.2'(MCAD-22050)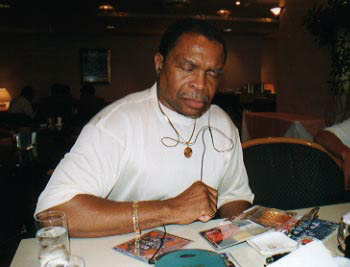 Copyright(C) by Makoto Takahashi
Do you remember anything about Jimmy Jones?
Well, Jimmy later left the group, and became a minister, but he died some years ago. He was living in Texas. I don't know what happened. He was rather young when he died. He and Joe sound similar, it was great.
I've read in an interview many years ago that you sometimes joined the Mighty Clouds on stage when they are in town.
Yeah.
What song did you sing with them?
'When the Gates Swing Open!' Hahaha! I had sung that song for many years before I recorded it. The guys, we'd always get together, the Mighty Clouds and me, and for some reason we would always sing that song. I don't know why, but.... I think the reason... Although Johnnie Taylor recorded the song with the Soul Stirrers, there was another lead singer that came to the Soul Stirrers after Johnnie Taylor left, which was Jimmie Outler. Jimmie and I, a lot of people to this day think I'm Jimmie Outler, because of the resemblance. We resembled each other a lot. We had a relationship like brothers. That was mainly the reason why I did His Precious Love and later I recorded 'When the Gate Swing Open' in memory of Jimmie Outler, because we were very close. Jimmie Outler, who was the lead singer for the Soul Stirrers, and Leroy Crume,who was with the Soul Stirrers, we were like... very close.
I can't wait for the album to be released!
You know, this is really... Arther Crume is there. And Arther Crume and I were in the (Sensational) Nightingales. We were in the Nightingales together. So the Crume brothers and I are very close. Now we all cometogether, we're gonna do this album, so we are happy about that.
The wonderful year 2000!
Yeah. Look for the early 2000, if not before.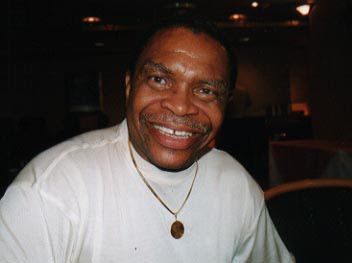 Copyright(C) by Makoto Takahashi
TALKS ABOUT THE GOSPEL DAYS
Great! Could you tell me a little about when you were with the Sensational Nightingales? Such as what kind of training did you get from them?
I knew my harmonies when I joined the group. I learned the harmony very early. I was fortunate enough to be with the groups... I was always in the older groups. Everybody in the group was always much older than I was. You know. I learned a lot. I guess that started when I was twelve years old. Most of the members of the groups were old enough to be my father. And they taught me a lot, you know, harmonies and things like that so when I joined the Nightingales, it was very easy for me, although that was like first real... which was my ambition at the time to be a professional gospel singer. And that was a group I grew up listening to. You know, so I was very excited about it. When I went and joined the Nightingales, I knew all the songs. I didn't rehearse. They were in Chicago one Sunday and they said, meet us the next Sunday in Detroit. So I had a whole week to think about it. So I went to Detroit and I just started singing, you know, because I knew all the songs.
That's wonderful. So that's how it started. How did they find you, or listen to you sing?
I was singing with the group called the Gospel Songbirds. The Nightin gales was not from Chicago, but Arther Crume was from Chicago. And he knew me.
Horace Thompson was going into the service, he was going into the army. so they needed another member, and so Arther Crume said, I know this guy in Chicago,and I know he can sing. So they would come to Chicago to play for our anniversary, which was the Gospel Songbirds' anniversary. And he said, man, we want you to join the group. I was excited about it, hey, man, yeah!
But you were doing quite well with the Gospel Songbirds then, right?
Oh, yeah, yeah, that was a great group. But we didn't travel a lot.
We didn't travel the way the Nightingale traveled, although we traveled quite a bit. But the Nightingales was strictly road group, you know. That's what I wanted to do.
Here is the Gospel Songbirds CD! You were quite young.


Right here! And that's Cash McCall (next to me).
Cash McCall! Maurice Dollison! Great.
That was a great group.
We've always wanted to listen to the Gospel Songbirds, but it was so hard to get the records.
Oh, yes. Very much. So now when they released the CD, that was great.
Yes, and surprisingly it has some preciously unreleased cuts, 'I Believe' and 'If I Could Hear My Mother'. This is my favorite now.
I forgot about it!
How did you think when you first heard this CD ?
Surprised. But when I looked at it and said, I don't remember doing all this and when I played it, I said okay. It all came back. 'I Believe' Me and Cash McCall, we used to do the songs all the time, we sang that song a lot. I didn't remember recording it.
How did you and Cash McCall meet?
Oh.. We used to go to early morning broadcast on Sunday morning. That was a gospel radio broadcast. Then he and I were in the group called Holy Wonders. At that time he wasn't very good at playing the guitar. I was a king of the guy, I was the person who was always encouraging him, saying, keep doing it! keep doing it! And he became a great guitarist. That's how he and I met. In the group, he didn't stay very long as a guitar player, because he didn't play that well. That's how long we've been friends since I guess, 1959 or 60.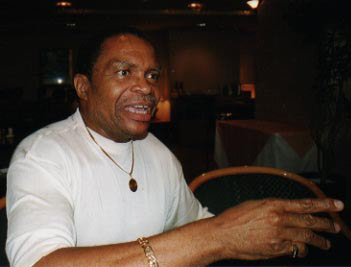 Copyright(C) by Makoto Takahashi
THE LATEST ALBUM AND MEMPHIS
And he played on 'That's How It Is' again.
Yeah! Well, like I said, later he started writing and playing very well. We were in Oneder-ful! Records together. So he and I are very close down through the years. He lives in Memphis. That's how we did this album, because he was in Memphis, so he came by Willie Mitchell's studio and he brought me the song, 'You'll Never Miss Your Water'I said, we really should do 'That's How It Is' again, because people always ask me and say, why don't you record it again? You know, and he said, yes. Let's do it! It was like flash back! Because he played on the original version, so here we are years later, thirty years later we all did it again.
How long has he lived in Memphis?
About maybe five or six years.
I lived in Memphis for a year.
You did? When?
In 1993. Right after I met you, I went to Memphis and lived there. I went to college, and went to see 'Teenie' Hodges a lot, read Bible with Howard Grimes. There are a lot of nice people there!
Yeah, I love Memphis. A lot of good people there. Well, I've been recording there for.. how many years? 25? You know, Willie Mitchell and I have a father - son relationship. When I got ready to do this album, I called him, and we talked a lot. We called each other on the phone and said, ok, how are you doing? and so on, you know, and talk about the state of music, what's happening with the music. So you know, I called him and said, I wanna record. He said, come on down! You know what I mean. I don't worry about money and things like that. I just go down there and record. That's what we do things. Of course we pull in all of the guys. Most of the Hi-Rhythm Section. Teenie Hodges didn't play but all the rest of the Hi-Rhythm Section, you know, all the horn players.
I felt the horn style of this album is quite different from the Memphis style this time.
Well, somewhat.
I rather thought the arrangement resembles the Jackson Mississippi style, such as Ronnie Lovejoy did a couple of years ago.
Well, you know no one does horns pretty much like what's coming out of Memphis because that's what they mean to it. I know the guy you were talking about, but Memphis, you know you've got... of course you know the folks go and play over there, it's typical Memphis. Lester Snell did the arrangement. The difference is Lester Snell doing the lot of the horn this time. Lester was with the STAX, you know. He was one of the player with the STAX. So you can kind of get, if that's southern, the southern sound.
Me and Howard (Grimes) became real good friends and when we were reading the Bible together, he'd say, I used to do this a lot with Otis.
Yeah! Howard and I are real close. We never lose, no matter what's happening, we never lose contact with each other.
Howard showed me a video of your interview for a Canadian TV news show, and they were asking you about how do you... I forgot exactly what they said, how do you think about singing both gospel and love songs. And you were saying, when I sing gospel, I sing, thank you, Lord. And when I sing love songs, I sing, thank you baby.
Yeah. It's very similar. When I sing, I can do in on the same show. In all music I try to have some inspiration in it. In all my music, I'd like to have a message.
A wonderful love message.
Sure. Something that you can use in your everyday life. So when when you go into gospel, it's not such a great big change. You can say go right in to it. It's not some one say, oh you did that? It's kind of easy when you do it that way. And this is something that may be after you have some control of the music. I've learned so much from Willie Mitchell, working with Willie Mitchell. So that's how I was able to, later on, started producing. So I'm a good producer. Because I've learned from one of the greatest.
Leroy Hodges (the bass player) plays with a lot of other drummers, but I noticed that when Leroy plays with Howard Grimes, he rolls his head. And he does it with nobody else.
Well, they've been doing this for so long, you know, grew up together and things. You have to understand what I'm saying about the Hi-Rhythm section. When they're horned, there's nothing better. I mean they really click it!
There's nothing better than that rhythm section. That is such a great rhythm section. And you can see and hear that in the '83 live album. There was no such things as over dubbing. That was just the way it went down.
I wear my Rooster Records (which publishes the live album) T-shirt.
I know that! But you must again come back to my project, the Roots Festival, we do this every third weekend in July.
Where did you held it this year? The old Regal Theater site is now on construction for the Lou Rawles Theater, right?
So we do it in the middle of the King Drive, the Martin Luther King Drive. It's very wide. We had two hundred thousand people. When you look down from the stage, just people.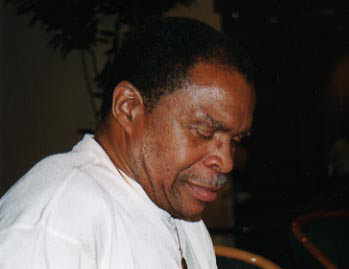 Copyright(C) by Makoto Takahashi
CHILDHOOD IN MISSISSIPPI
You were born in a little town in Mississippi, near Rosedale called, Waxhaw?
It wasn't a town.
A village?
It wasn't a village. There was just one general store. So it was country.
How do you spell it?
WAXHAW. Like Hee-haw. I left there when I was eleven years old. I've been out very much since then but that's when I moved and left that area. I grew up there. I'm the youngest of the ten children. Well, I come from the big family. Some of the members still live there.
Do you sometimes go back there?
Yeah, yeah. For inspirations. I go back for inspirations a lot. My mother's buried there. So I go back every now and then to get the feel of old place. It's about 45 miles south of Clarksdale. For Helena about 40 - 50 miles.
Did you enjoy music there?
Oh, yeah. we listened to all the music. I'd been listening to WLAC of Nashville, and WDIA of Memphis. We'd listen to WDIA during the day, WLAC at night.
Did you have a lot of gospel programs or blues programs?
In the early days it was very limited until you started to listening to WDIA. Once the WDIA came on you had... At that time, you didn't get a lot of black music, you know. I used to listen to Sonny Boy Williamson. KFFA, the King Biscuit Time. We used to listen to that. And there were some other black... but they only had fifteen minutes. Very short. Later on you started to listen to WDIA. You had all these hours listening to music, the black audience music. So that was a difference then. But locally we had KFFA and stations like that.
Did you have a lot of church programs?
Again not a lot. When you listen to WDIA then you had 'Bless My Bones ' Wade, then you would hear a quite a bit of gospel music at that time. I was always a big Dixie Hummingbirds fan. And then of course the Soul Stirrers. And the Five Blind Boys, Mississippi and Alabama. We had so many groups at that time. But those were the groups that have always been my favorite. And then there was the (Sensational) Nightingales, also. Julius Cheeks was singing.

Were you quite into Julius Cheeks at that time?
Oh, yeah. Burying Ground and all those great songs! I was a big fan.
THE FIRST PROFFESIONAL SINGING WITH THE FAMOUS BLUEJAY SINGERS
You were with the Bluejays( the Famous Bluejay Singers), too, right?
Yeah, I was with the Bluejays. That was the first group I went on the road. First professional. I was eighteen. I was really excited.
Did you meet Mr. Charles Bridges (the founder of the group)?
He was in the group. Yeah. In fact he was the only original member in the group at that time.
Was he in Chicago at that time?
Yeah. They all lived in Chicago. And most of them were tied to the businesses and things like that so he was the one that put.... excuse me. I had a little group at that time called the Golden Jubilairs. And so most of the members of the Golden Jubilairs became the Bluejays. That's how I went into it. And Charles Bridges was the leader.
All right! Great! Do you remember some of the thing that he taught you?
And then it kind of paved the way for me to do the secular music and gospel music. Because the Bluejays, we did all kinds of music. They were thegroup that had been on Broadway along with the Golden Gate Quartet. That wastheir contemporaries. They were known as the variety singers And that's how I, that's kind of broaden my approach to music because of the Bluejays.
What was your favorite song to sing with the Bluejays at that time?
There were so many, we did like, ah, we had barbershop harmony, you know, and things like that and so we were doing the song like, 'Not a soul', then 'Old Gang of Mine'.(sings)'not a soul's there on the corner / That's a pretty certain sign / Those wedding bells are breaking up that old gang of mine,' you know songs like Broadway songs. And we were doing the twist, you know, twist was very popular then. But we sings at hotels and places like that. So we would even do songs like Old McDonald Had a Farm,because sometimes we were singing for kindergartens. So to keep them from being bored, you know we had to sing children's songs,too. We did a variety of things and you know it was exciting. OH, we were doing things at that time you know there were a lot of popular songs out. AgainI would do some of the Soul Stirrers songs, the Dixie Hummingbirds songs.
ONEDER-FUL DAYS AND HARROLD BARRAGE
I would like to ask you about the days of 'Oneder-ful records'. You were introducing Mr. Harold Barrage when you sang 'I've Got to Find a Way' for the first

live in Japan album.
Yeah. He was a good friend, kind of like a big brother in music. And he taught me a lot. He was one of those people that you meet along the way that teach you right. And he was a great singer He died too young. He was too young when he died.
I like his version of 'I've Got to Find a Way'.
That's the greatest version. Even to this day I love to listen to that song.
Is there anything that you remember about him?
As you know he wrote my very first release on Oneder-ful, which was 't he Flame in Your Heart' and somewhat co-producer. And it was officially the second release I ever had, because the first release was with the Gospel Songbirds. And now here I am this is my first secular release, and I am very excited about that, and want to do a record hop. You know the disk Jockey would have this affair, and you're going to pantomime as a promotional thing, you're going pantomime your record. So I was very excited about that. So Harold and I, we were sitting around the studio that day, and I had on a sweater. And Harold Barrage was a very sharp dresser. Very sharp. He looked at me and said, 'You're not gonna sing my song with that on,' so he took his tie off, and took his shirt off. And he gave them to me. He said, 'Put that on, and you're going to sing.' We hit up with friends, I mean. This is really what this man did. You know what I mean.
Was that a radio program?
No. It was in a big hall. They called it record hop. People would come, most of the time the disk jockey'd have maybe Monday or Wednesday night or something like that. And he spins the record, but he'd always have guests come by. It was a promotional thing so you're promoting your record. That was my favorite Harold Barrage story.
HI TIMES AND MEMPHIS
Thank you very much. I'd like to ask you about some of

the song writers that you met. Some of the great songs of yours were written by Mr. Don Bryant.
As you know Don was an artist as well as a song writer at Hi. Later he and Ann Peebles got married. Don's a great artist. We had a lot of fun. And we sat around... Hi was somewhat like Oneder-ful. You know all these people sitting around and everybody giving these ideas. And so that how we did a lot of things. Don would come up and say, 'Come on, I want you to hear this song.' He was coming up with some great songs. Plus Don is such a great singer himself. We formed lasting friendship. We became close during all those times, and it still remains till this day. It's like family.
I helped him move to his new place.
You did?
One day a friend of mine, a guitar player James Holley came to me and said, 'Teacher, I want you to drive me to a friends house.' I said,'What? Why should I?' And he said,' You'll be glad.' Then He and Don and I rode the U-Haul Truck together. That's how I met him.
Yeah, we get together when I go to Memphis, which is pretty often.
How about the similarity of Oneder-ful and Hi?
Is that the creativity, or friendliness in creating music.
Yeah, you know George Leaner, who was the president of Oneder-ful was like a father to me. And so when I'd go to Hi, there's Willie Mitchell. He was like a father to me. He and I have a special relationship, you know, a father - son relationship, which cuts through any problems or anything. That's the way it's a lasting thing. It was that way with George Leaner at Onederful-records. It was that way with Willie Mitchell at Hi. So it gives you that support that you need to create, because there's always someone says, 'Hey, do what you wanna do!'
Yeah, do what you wanna do! That's the key then. And you are doing what you want!
Yeah, doing what I want.
WHAT IS UNIVERSAL
Many people, especially the foreign listener of your type of music go to record shops and there are two different sections called soul or R&B and blues. How do you think about those categories?
Categories are for the folks that don't know music.
Oh, amen to that !
When I record, I never go in and say I'm gonna record this type of record, or that type of record or whatever. I record what I feel.
Uh-huh, do what you wanna do.
Do what you wanna do. you know what I mean? And everything falls in place. I don't categorize music. And I don't categorize people. No matter who you are. So that's my point. If you have to take universal approach to life, music is universal. Music has no language barrier. I am true to the music. I have no barrier. On this album, some folks say, 'When the hearts grow cold' sounds like a country song. I like it! I didn't say, well, it's a country song or whatever. I like this song. That's the way it goes. You know, I grow up listening to music that way. People that categorize music segregated music. You have to understand what I'm saying now. I remember when Elvis Presley had many black fans and Jerry Lee Louis had a lot of black fans. But then somebody in the industry got together and segregated music, then they no longer have black fans. And black artists that had white fans no longer have those fans.
That's too bad.
That's for people that say, 'This music is this and that music is that'. And so they're separating fans. And they do the same thing with people. Well, (it's stupid to say) if you're Japanese, you're supposed to listen to Japanese music, you're not supposed to listen to anything else. You know what I mean?
Many people had told me that.
Sure. I remember when they told me in 1978 that I was coming to Japan and I said, '.....what?......' because I didn't believe that, 'Japanese people listening to black music?' I was still stuck in what was happening in the World War II. That's all what I knew about. You know. So music opens your mind and you see whole other things, because again music is universal.
We all love your music. And many people in Japan do and think that you have such a sincerity and a wonderful message that comes from the heart and we just feel it.
It riches the heart! It reaches the heart! Well, you know, Japan, well I'm not saying because I'm here now. This is actual fact. Japan turned my whole life around. It turned my whole life around. The things what I did here changed what was happening in the rest of the world. My live albums till this day sell as if they were recorded yesterday. And it has to do with the spirituality of the people. It's spiritual. In all the concerts that I was doing here, the spiritual things are so strong. That's how these things happen.
People all over the world say, 'When you go to Japan, that's when things happen for you.' It turned my whole life around. For the best.
Thank you very much! This is a great day for me.
You're welcome.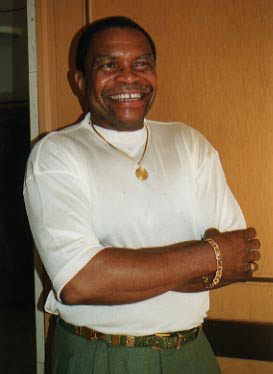 Copyright(C) by Makoto Takahashi
---