---
I wanted to point out the May 25th 1999 release in Japan of And This Is Maxwell Street (P-Vine PCD 5527/28), a two-CD set that issues all of the music recorded on the street in 1964 in conjunction with Mike Shea's now-legendary documentary film about Chicago's Maxwell Street And This Is Free. Some of the material has been known from Rounder's Robert Nighthawk: Live on Maxwell Street but several of the performances on that disc were edited, all were made from copies of the original tapes, and many of the songs and performers are misattributed.
The new set has been licensed from Studio IT in Los Angeles, which now has the worldwide distribution rights to the film And This Is Free and all materials associated with it--including 44 minutes of Robert Night Hawk interviewed by Michael Bloomfield.
And This Is Maxwell Street was lovingly mastered from Mike Shea's original tapes transferred to the digital domain using the same type of Nagra III recorder Shea and his team used to make the originals.
The sound is clear and crisp. All of the full versions have been restored and 21 new tracks appear for the first time anywhere! This is among the most important releases of previously unknown blues material in the past couple of decades.
The set includes mostly blues performances (by the likes of Robert Night Hawk, Johnny Young, Carey Bell, Big John Wrencher, and John Lee Granderson), but each disc has been conceived as a continuous hour-long block of music.
The blues performances are interwoven with gospel by James Brewer and his regular Maxwell Street group as well as with band chatter, street noises, and preachers. Hearing the set is like taking a stroll down Maxwell Street on a Sunday when the area was in its heyday. The sense of "being there" is remarkable.
Hearing anything new from the sparsely recorded Night Hawk is a great pleasure. Other highlights include two winners from Johnny Young--"All I want For My Breakfast" and a previously unknown tune "The Sun Is Shining"; three tracks showing a young Carey Bell with the hallmarks of his famous style already in place at 28--these are his first known recordings; and excellent tracks by Big John Wrencher that should greatly enhance this performer's reputation. The extensive liner notes include rare photos, a reproduction of one of Robert Night Hawk's business cards (he spelled his last name as two words) courtesy of Charlie Musselwhite, historical information about Maxwell Street, and the true story of how this music came to be.
The one bad thing is that the liner notes are inaccessible to any who doesn't read Japanese!
Studio IT is now looking for a label interested in world distribution (excluding Japan) of the set--possibly in conjunction with the bloomfield interview and a re-release of And This Is Free on video.
I hope blues fans everywhere will get to hear this outstanding compilation soon.
More information is available on the Internet at
http://users.aol.com/maxwellstr/.
North American release
Rooster Blues Records

Announcing the European release
of "And This Is Maxwell Street"
Oct. 2000 on
Catfish Records !!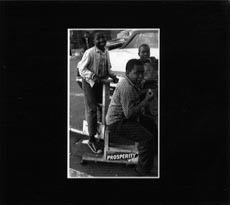 ---
AND THIS IS MAXWELL STREET
DISK ONE
1. The Sun Is Shining- Johnny Young
2. Can't Hold Out Much Longer - Big John Wrencher
3. Juke Medley - Carey Bell
4. That's All Right - Robert Night Hawk
5. Red Top/Ornithology - Little Arthur King
6. Maxwell Street Jam - Carey Bell
7. Lucille - Big John Wrencher
8. Corinna, Corinna - Arvella Gray
9. Power To Live Right - Carrie Robinson
10. Cheating And Lying Blues - Robert Night Hawk
11. Honky Tonk - Robert Night Hawk
12. Dust My Broom - Robert Night Hawk
13. Peter Gunn Jam - Robert Night Hawk
14. I Need Love So Bad - Robert Night Hawk
15. All I Want For My Breakfast - Johnny Young
16. Take It Easy, Baby - Robert Night Hawk
17. Long Gone John - Unknown Harpist

DISK TWO
1. Mama, Talk To Your Daughter- Big Mojo Elem
2. I'm Ready- Carey Bell
3. Carey'n On- Carey Bell
4. When The Saints Go Marching In- James Brewer Group
5. Back Off Jam- Robert Night Hawk
6. John Henry- Arvella Gray
7. Anna Lee/Sweet Black Angel- Robert Night Hawk
8. Love You Tonight- Big John Wrencher
9. The Time Have Come- Robert Night Hawk
10. Cruisin' In A Cadillac- Carey Bell
11. Honey Hush- Robert Night Hawk
12. I'll Fly Away- James Brewer Gospel Group
13. I Shall Overcome- Fannie Brewer
---